The purpose of the Paris-Saclay Autonomous Lab project is to devise and test different
smart, autonomous, electric and shared public and private mobility services to
supplement the existing transportation systems in the Paris-Saclay area.
A comprehensive autonomous transportation system comprising autonomous vehicles,
a supervision system, connected infrastructure and customer applications will be set up
and experiments will be conducted to determine the requirements for scaling up an
autonomous mobility service.
The experimental system using autonomous electric vehicles – three Renault ZOE Cab
prototype cars and a Transdev-Lohr i-Cristal shuttle – will be progressively made
available to a panel of users.
Groupe Renault, the Transdev Group, IRT SystemX, VEDECOM and the University of
Paris-Saclay initiated the Paris-Saclay Autonomous Lab project. It was launched under
the acronym EVAPS (autonomous vehicle eco-mobility in the Paris-
Saclay area) with support from the French government's Investments for the
Future program (PIA) entrusted to ADEME; the Établissement Public d'Aménagement
Paris-Saclay; the Paris-Saclay urban community; the Essonne Department; and Ile-de-
France Mobilités.
The Paris-Saclay Autonomous Lab was inaugurated on May 15, 2019 at the SPRING 2019 innovation event by Grégoire de Lasteyrie, Île-de-France Regional Councillor, Special Delegate responsible for New Mobility and Mayor of Palaiseau; Francisque Vigouroux, Vice-President of the Paris-Saclay urban community responsible for Mobility and Transportation and Mayor of Igny; and Michel Bournat, Mayor of Gif-sur-Yvette and President of the Paris-Saclay urban community. The inauguration ceremony was attended by Thierry Mallet, Chairman and CEO of Transdev Group; Arnaud Molinié, Senior Vice President, Mobility Services, Groupe Renault; Paul Labrogere, CEO, IRT SystemX; Sylvie Retailleau, President of the University of Paris-Saclay; Philippe Watteau, Managing Director, VEDECOM; and Elisabeth Crépon, Director, ENSTA ParisTech.
This first stage of the Paris-Saclay Autonomous Lab project is one of the SAM (safety and acceptability of autonomous driving and mobility) experiments selected by the French government on April 24, 2019 following the EVRA (autonomous road vehicle experiment) call for projects under the Investments for the Future (PIA) program. The SAM experiments are part of France's national autonomous vehicle development strategy. They are designed to familiarize local citizens and stakeholders with these systems, expand their use and build a regulatory framework that notably includes the safety approval process.
YouTube dépose des traceurs lors de l'affichage de la vidéo. En cliquant sur « Autoriser », ces traceurs seront déposés et la vidéo s'affichera. Vous avez la possibilité de retirer votre consentement à tout moment.
Paris-Saclay Autonomous Lab is a comprehensive autonomous transport system comprising smart autonomous electric vehicles, an operating control center to supervise the services, connected urban infrastructure and intuitive, user-friendly customer apps.
Developing an integrated approach within the smart city ecosystem to build tomorrow's mobility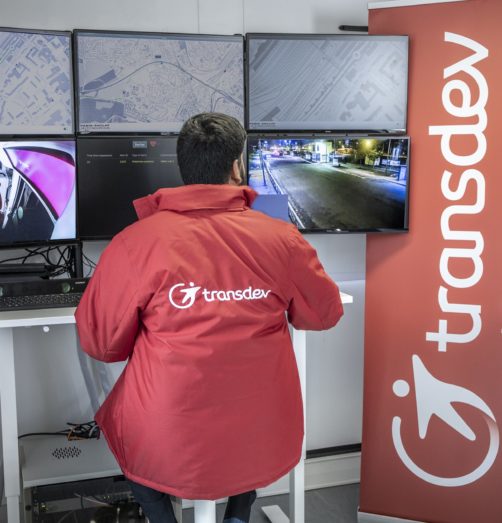 The Transdev Group brings to the project its expertise as a leader in operating shared autonomous mobility services, including operation, fleet management and customer relations. Since 2005, it has transported 3.5 million passengers worldwide in vehicles without steering wheels or pedals. The Transdev Group also provides its Transportation Technology by Transdev, developed as part of its ATS by Transdev Autonomous Transport System (Supervision, Embedded intelligence, Connected infrastructure, Customer application), to ensure passengers' safety, quality of service and customer experience. These technologies are developed both independently by the group and with a partner ecosystem that includes the top research centers and leading industrial companies in the autonomous transport systems sector.
For the Transdev Group, the project is also a further contribution to developing sustainable regions by introducing efficient mobility solutions with reduced carbon footprint based on shared electric autonomous mobility and – where possible – the use of renewable energy sources.
For the Paris-Saclay Autonomous Lab experiment, the Transdev Group is also providing the i-Cristal autonomous electric shuttle with a maximum capacity of 16 passengers, which it developed in an industrial partnership with the Lohr Group. The shuttle builds on Transdev's experience with accessibility, interior fittings and customer interfaces. Its embedded technology includes Torc Robotics' onboard L4 Asimov self-driving software and its customer experience, based on ATS CX by Transdev, features on-board comfort and atmosphere, customer-Human Machine Interfaces and on-board services (Wi-Fi, reading materials and magazines, USB plugs, etc.).
This experiment is a crucial step in preparing the public transportation systems of the future, and more particularly as we roll out new services for the inhabitants of the region that complement existing transportation systems at night, during off-peak periods and in underserved areas.
Valérie Pecresse, President of the Île-de-France Region and President of Île-de-France Mobilités
As an operator and global integrator of mobility, Transdev – The mobility company – gives people the freedom to move whenever and however they choose. We are proud to provide 11 million passenger trips everyday thanks to efficient, easy to use and environmentally-friendly transportation services that connect people and communities. Our approach is rooted in long-term partnerships with businesses and public authorities, and in the relentless pursuit of the safest and most innovative mobility solutions. We are a team of people serving people, and mobility is what we do. Transdev is jointly held by Caisse des Dépôts Group (66%) and the RETHMANN Group (34%). In 2018, with 82,000 employees in 20 countries, the Group generated total revenues of 6.9 billion euros. For more information: www.transdev.com.