Caring for the safety of our employees, passengers and general public is our credo, moral and ethical obligation, and at the core of our business practices.
We strive to embed safety awareness and safe behaviors in everything we do and to provide safe service and safe workplaces.
We provide training, ongoing programs and campaigns to ensure an entrenched safety culture. We work hard to engage our employees in living our safety culture at every moment. This includes classroom training, behind the wheel, digital auditing, yearly evaluations, and incentive programs.
Our culture encourages employees to look out for teammates, colleagues and themselves while going above and beyond to minimize potential hazards. We celebrate safety accomplishments and honor actions that keep our communities safe.
More than 3,800 hours of safety training at our York operation last year.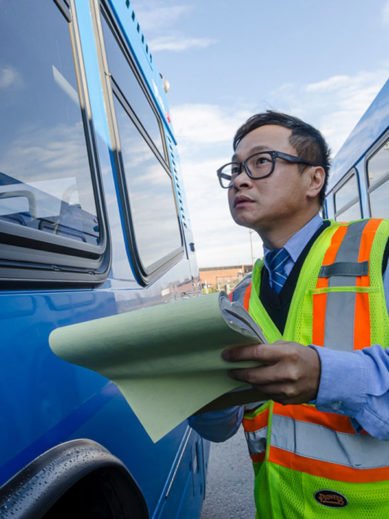 Joint Health and Safety Committee
Whithin our York team, our joint health and safety committee has both labor union and management representatives. Its mission is to enable us to assess, evaluate and monitor and improve our safety programs and procedures. This team operates a bus contract for the York Southwest Region.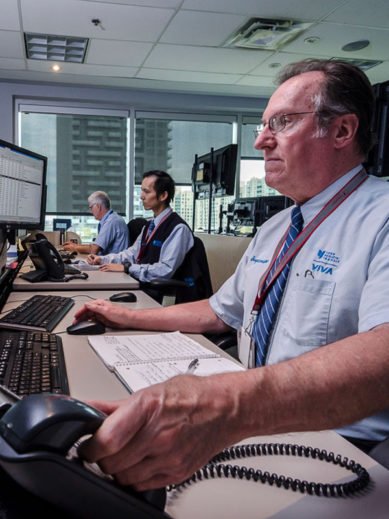 Digital Auditing Program
The Digital Auditing Program, which was developed at our York operation, is a safety audit program that helps ensure we are continuously improving health and safety. Operators are monitored by well-trained inspectors and data is collected in a digital dashboard. The dashboard provides daily updates, giving the team access to the number of audits performed by inspectors, data on how well they are hitting their targets, whether they are completing them in the required time, the number of passes awarded, etc. The program ensures that inspections are consistent and compliant with Transdev safety standards.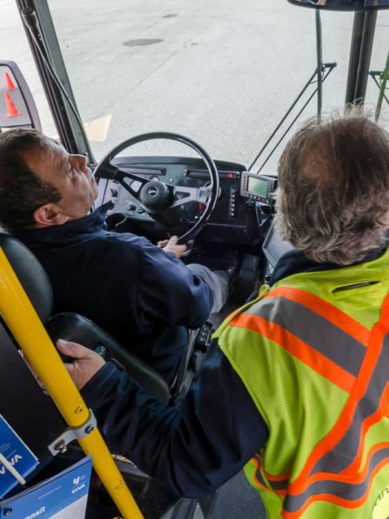 SMART Driver Program
In this incentive program at our York operations, all aspects of an operator's performance are measured including safety, attendance, and customer service. Each month there are quizzes and points are allocated based on performance. Operators who score in the top 25% receive titles like "Grand Master Operator". The program celebrates accomplishments and instills a culture of continuous improvement, where operators are acknowledged and can also seek support and training to improve their scores.
Safety: at the heart of our corporate culture
The safety of persons and property is an absolute necessity, shared by all of our employees. "Safety first" is the foundation upon which is built, day after day, a relationship of trust, respect and partnership with our customers, passengers and teams. It is an important part of the Group's common culture, supported by safety correspondents who are in constant communication in order to pass on and duplicate best practices.
Our systematic approach to safety management includes organisational structures, responsibilities, policies and procedures. To approach the zero accidents objective, our tools are organised around four pillars:
SMS (Safety Management System) which constantly monitors and checks compliance with the standards in force within the Group together with dedicated audit and monitoring teams:


custom-designed system that takes into account the size and complexity of local activities (heavy rail, light rail, road and marine activities) as well as risks related to interfacing with third parties (contractors and service providers);
consistent with the international standard ISO 45001 version 2018 "Occupational Health and Safety Management Systems" and complies with all other national and international regulatory requirements for "System Safety";
150 compliance audits every year concerning around 100 requirements;
key performance indicators (KPI): each quarter, monitoring of key performance indicators for Safety (accidents at work, injured passengers or third parties, number of collisions, incivilities, etc.) and implementation of targeted action plans to continue to improve;
training: safety certification required for 3,000 managers through e-learning. Our recruitment and training processes have been certified according to the ISO 9001 standard;
"ten safety principles" for all our employees, resulting from a collaborative process with all safety experts in the 17 countries where we operate.
More than the tools, it's the sharing of experience that counts. Each year, I bring together all of the safety managers to discuss the events they've gone through and the solutions they have developed. This is how we continuously improve our safety performance.
Eddy Verbesselt, group safety director
The 10 Transdev safety principles
Promote a

culture of safety

by example

Zero tolerance

for alcohol or drugs
You are responsible for

your

safety and for the safety

of others

Strict respect of procedures: No

"more or less"

Report

dangerous situations

immediately
Observe all

signs, signals and speed limits

Always wear your

personal protective equipment

Keep your workspace clean and your tools well maintained

Report and analyse all incidents immediately

Share your experiences and your best practices with your colleagues
The "Safety Trophy": a big thank you to our employees
Convinced that safety is our primary duty, we organise every year a "Safety Trophies" award within our Group to reward the best initiatives from our employees. The 2017 winners, with very different professions and geographical origins, embody the commitment and dedication of our teams to ensure everyone's safety, at all times:
Safety Commitment Trophy: since the beginning of his career, Joe Conway (Operations Officer in charge of Standards, Ireland, Dublin – Luas Network) has been involved in all safety aspects of network operation and has contributed to the pre-open line extension tests;
Safety Innovation Trophy: together with his team, Gilmo Ku (Signage Technician, South Korea, Seoul – Line 9) developed and implemented an alarm signal system to prevent unauthorised signal crossings;
Safety Hero Trophy: when his train caught fire, Gunnar Carlsson (Train Driver, Sweden – Krösatåg Operation) demonstrated his technical prowess and composure by leading his passengers to a safe location, where they were then rescued;
Safety Performance Trophy: Wayne Cliffor (Regulatory Assistant, Ireland, Dublin – Luas Network) actively participated in the research and implementation of solutions to prevent accidents with pedestrians, cyclists, etc.
It is thanks to the personal commitment of everyone in regards to safety that we can build, day after day, a relationship of trust, respect and partnership with our customers, our passengers and our employees.
Thierry Mallet, CEO of Transdev Group
We are always looking out for new solutions to ensure the highest safety of our fleets. This has led us to create a tool that alerts drivers at the first sign of fatigue, drowsiness or distraction.
Its principle? Based on a face-tracking technology (analysis of micro-movements of the eyes and head), and coupled with environmental data (coming from the GPS system, clock or accelerometer), the "Toucango" system provides assistance to the driver (connected navigation support and punctuality support) and to warn him or her if needed (micro-sleep alert and distraction alert).
A true partner in safety!