Autonomous mobility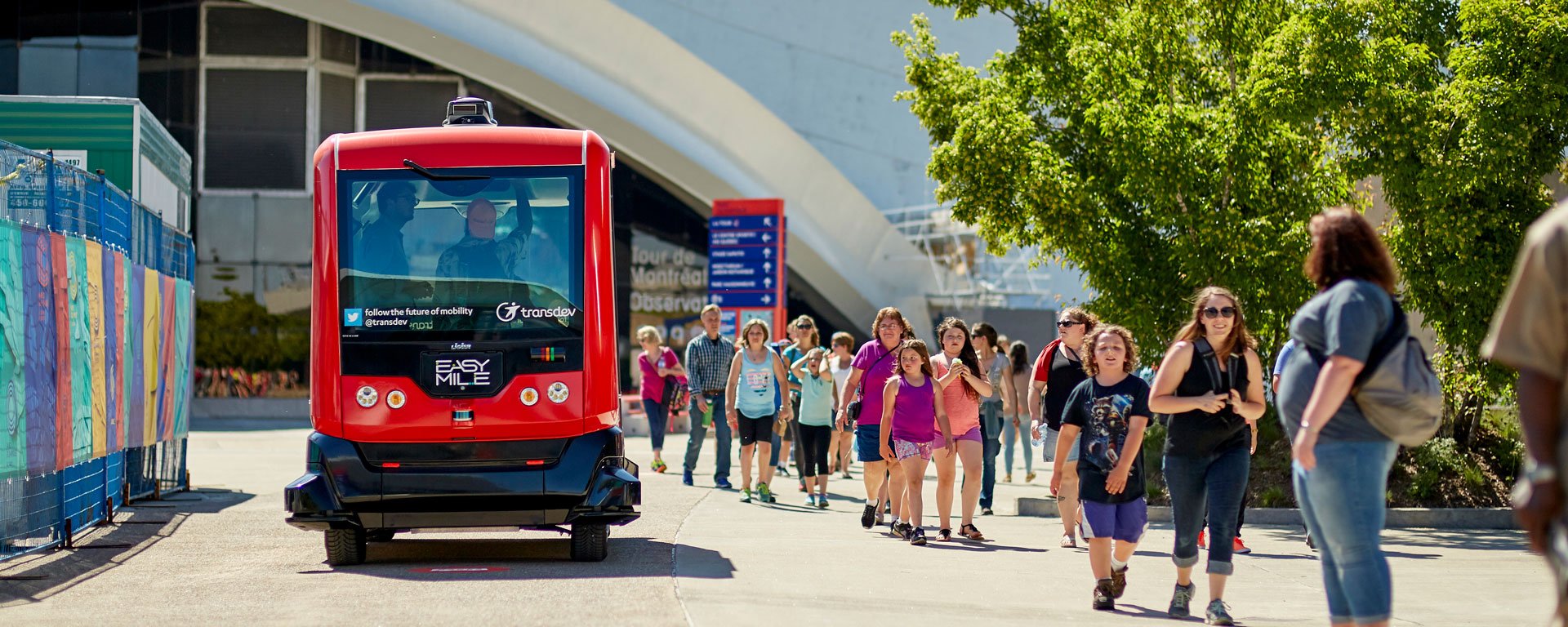 Autonomous vehicles are the cornerstone of a rapidly changing mobility landscape.
passengers transported by Transdev AVs
Our goal is to help clients launch autonomous operations that blend seamlessly with existing mobility options, expand connections within your community and enhance the footprint of public transit.
Transdev, capitalizing on decades of management and operational expertise, is developing and deploying AV solutions to help solve mobility challenges for cities, towns and communities in North America and around the world.
We're launching autonomous mobility solutions that blend seamlessly with existing networks to expand the scope of public transit — connecting people to transit systems (first/last mile options) and better serving city centers, tourist attractions, airports, universities, corporate campuses and planned communities.
Transdev has multiple AV shuttle deployments in Florida and one in California as well as several deployments in France, Australia, and other countries.
Olympic Park in Montreal has been the location for a few AV pilots over the last few years. Our second pilot was conducted from June to December of 2018. And most recently, a new milestone was reached in the summer of 2019 when two shuttles operated in dense urban areas in the middle of normal traffic, between the Olympic Park and the Maisonneuve Market: a first in Canada! Thousands of passengers were able to experience the shuttles and join us for the arrival of the mobility of the future.
We have strong AV partnerships with the Renault-Nissan Alliance, EasyMile, Lohr, Nayva, Torc Robotics, ZF, e.GO and other autonomous vehicle leaders.
Delivering Solutions to Our Clients
Autonomous shuttles bring new challenges that require new skill sets. We are committed to helping clients effectively navigate the many technical aspects of operating them.
We believe that shared autonomous transport is set to radically change the way we travel and, on a broader scale, the way we live through flexible, personalized and on-demand services, easy access to options and reduced noise and air pollution. Many transit agencies are committed to deploying autonomous shuttles as a means of learning about technical, safety and passenger experience considerations and we stand ready to help them.
Working with clients, we apply our understanding of the needs of each region to the gradual and successful integration of these technologies into public transport networks.

Manufacturer expertise
Knowledge of strengths and weaknesses of vehicle manufacturers

Maintenance
Digital and traditional maintenance for optimal fleet performance

Routing
Sophisticated routing algorithms and dispatch technology to optimize fleet management

App enabled
Mobile apps to deliver a seamless passenger experience with AVs and between modes

Control center
Digital control centers to monitor vehicle condition (tire pressure, temperature, battery status) and to interact with passengers

Safety
Best practices for safety and security

Compliance expertise
Extensive knowledge on regulations, legal issues, risk management and insurance options

Special care
Expertise adapting AVs for passengers with special needs
A Global Partner for Autonomous Mobility
In hundreds of cities across 17 countries, we have helped clients expand their mobility ecosystems through more than a dozen modes of transit. Now, that continues into a new era of mobility with autonomous vehicles.
Babcock Ranch, Fort Myers, Florida
Transdev is operating the first AV network in the country at Babcock Ranch, a new completely solar-powered town in Southwest Florida. Transdev and Kitson & Partners, the town's developers, share a vision for the future of mobility that will be shared, sustainable and autonomous. The long-term goal is to deliver Mobility as a Service (subscription mobility) solutions that will give residents and visitors an easy way to choose how to get around town on multiple modes.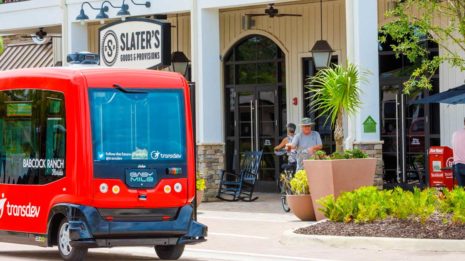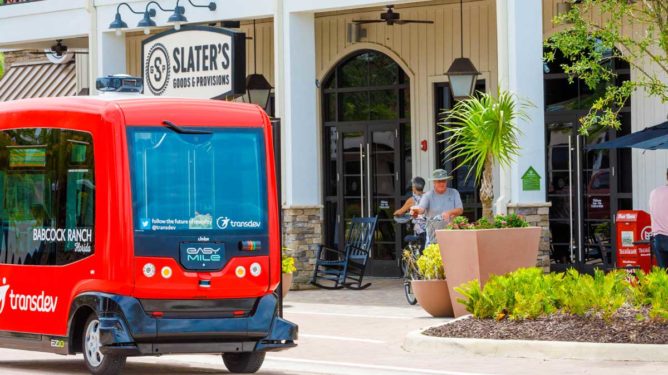 01
As part of a global pilot program, Transdev experimented in Montreal (Québec) from June 21 to August 4, 2019 with autonomous shuttles on open lanes, in a dense urban environment, in the middle of normal traffic. The route: connecting the Olympic Park metro station and the busy Marché Maisonneuve. The circuit represented a one-way journey of 1.4 km, completed in about 6 minutes with an average shuttle speed of 15 km/h. On board, as always, were Transdev's operators, who were responsible for the safety of the entire system, as well as welcoming and informing passengers.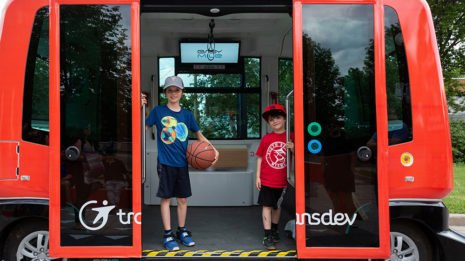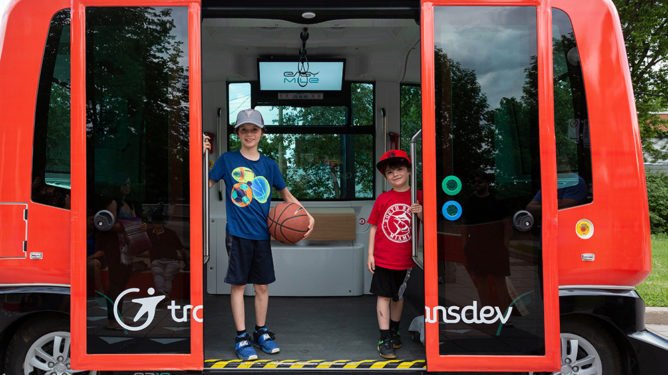 02
In the Netherlands, Transdev is connecting transit networks to on-demand services
Incorporating on-demand transportation within traditional public transit services is a key aspect of our strategy, because it's by guaranteeing fluid, seamless journeys that we will win over passengers and that public transit will gain in popularity! In 2016 we launched the Brengflex solution in the Netherlands, which is today being deployed on three of the country's public transit networks: a minor revolution in day-to-day mobility.
03
Rouen: autonomous vehicles for on-demand transport
To ensure the transport of the citizens of Rouen to the Madrillet technology park (workers and students), we have launched an experimental on-demand mobility project using Renault ZOE autonomous electric vehicles. It is a first in Europe on lanes open roads.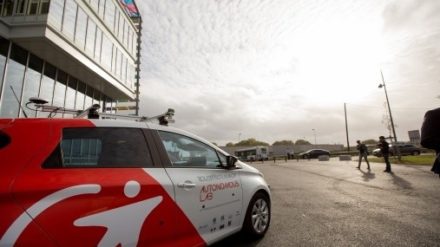 04
Contact mail
Fields marked with an asterisk are required.